Protection against electrostatics
Your esd-solution provider
for static control products and supplies
ESD-consulting & EPA-design
Our approach is the personal advice, which leads to an ESD-protection as comprehensive as necessary but as favorable as possible.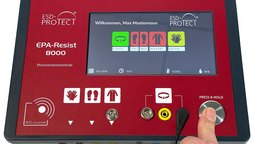 Since we know about the urgent needs on individual solutions, we develop innovative ESD- measuring devices, personal testers, probes & entry systems.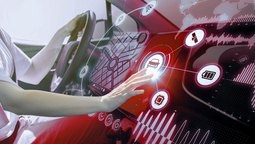 Electronics manufacturing
Automotive
and supplier industry
Aerospace
Medical technology
Mechanical engineering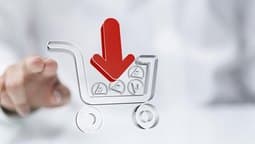 You will find all ESD-products needed for comprehensive ESD-protection at our online shop, structured by application areas.
Protect your production against electrostatics effectively
Sparks won't skip - if you get in contact with us first!
Being standard is no solution to us ...
... we focus on innovations!
That is why our portfolio goes far beyond ESD products and extends to special services and innovative special solutions to protect your production and your products from ESD damage.
Individual demands call for innovative products and services.
Current ESD-products in the catalog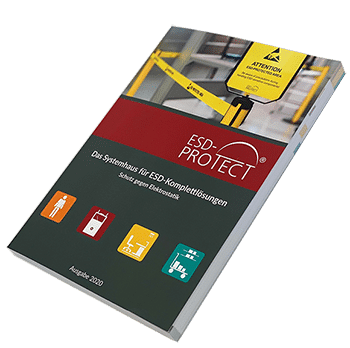 Electrostatic discharge (ESD) is the charge balancing between two different electrostatically charged objects. This equalization takes place within a very short time. There may even be a visible sparking. In everyday life, such discharges often occur when taking off clothing, which mainly consists of plastic fibers. Or touching a metallic door handle after walking over a carpet with footwear having a synthetic sole.
ESD - an invisible threat
You cannot see, hear or feel ESD, only the damage is noticeable, but then it is already too late. As a result, the damaged electronic components due to ESD often fail later at the customers. This may lead to considerable risks and costs for the manufacturer and also for the end users of an electronic product.
People are main responsible
ESD-damage is primarily caused by human beings because they can absorb and hold high electrostatic charges (e.g. when walking over carpeted floors).
People only feel an electrostatic discharge (ESD) from approx. 3.500 volts and higher. However, about 30 volts are sufficient enough to destroy or damage sensitive semiconductor devices.
Since people feel their static charges too late usually, they are not aware of the danger they may expose to ESD-sensitive components.
The relative humidity also plays an important role. At low humidity people and insulating objects charge more than it is the case at a higher humidity.
 
Advantages of comprehensive ESD protection:
Increase in product quality
Avoid loss of image and trust
Compliance with industry-standard quality assurance standards
Compliance with worldwide standards and ESD-norms
Reduction of error rate and error costs
Reduction of default risks
Minimize product liability risks